Main Content
Performance in Bathurst of "The Phantom Ship of the Bay of Chaleur and the Mystery of the Squando" August 16th, 18th, 23rd and 25th.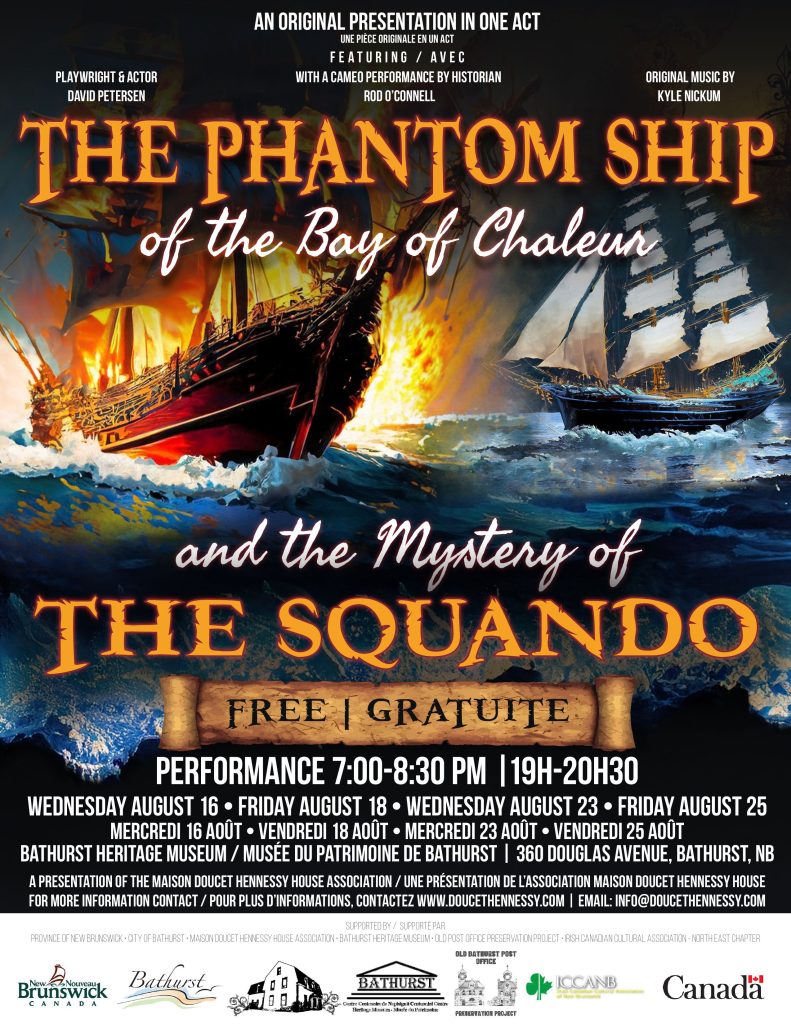 Performances take place at the Bathurst Heritage Museum at 360 Douglas Avenue in Bathurst on Wednesday and Friday, August 16, 18, 23 and 25 at 7 pm.
The story of Bathurst's Phantom Ship and the mystery of the shipwreck Squando will be told on stage this summer in four performances featuring actor/playwright David Petersen of Dalhousie. Produced by Bathurst's Maison Doucet Hennessy House Association and staged at the Bathurst Heritage Museum, this FREE show features a cameo appearance by historian Rod O'Connell of Bathurst and two original musical scores by musician Kyle Nickum.
LIVE! In BATHURST! Multi-Award Winning Artist Theresa Malenfant with Scott Medford! Friday, May 26, 2023 from 8:30 to 11 pm. Tickets available in advance by e-transfer info@doucethennessy.com $20 at the door. Royal Canadian Legion 1220 Bridge Street, Bathurst, NB. A Fundraiser for the Maison Doucet Hennessy House!
VIVRE ! À BATHURST ! Theresa Malenfant, artiste multirécompensée, avec Scott Medford ! Le vendredi 26 mai 2023 de 20 h 30 à 23 h. Billets disponibles à l'avance par transfert électronique info@doucethennessy.com 20 $ à la porte. Légion royale canadienne 1220, rue Bridge, Bathurst, NB. Une levée de fonds pour la Maison Doucet Hennessy House !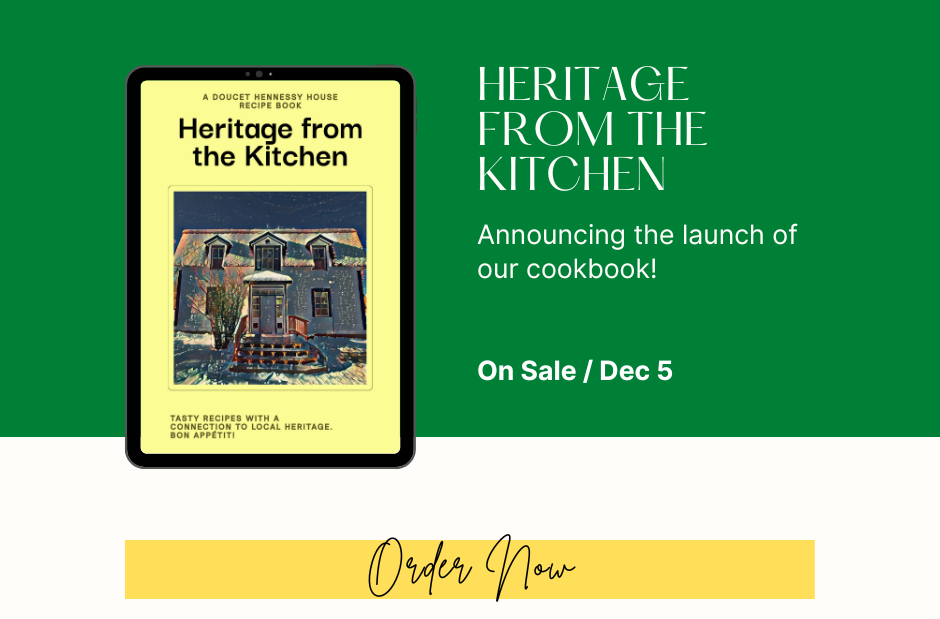 Architect, Engineer, Stonemason and Contractor Discuss Their Work on the House
In this short YouTube video, listen to Dr. Tom Morrison and Jane McGinn, Engineers from Heritage Standing Inc, as well as Stonemason Brian Frost, and Contractor Greg West speak about the specific challenges that working on a heritage building presents. Thanks to Francois Foulem for the use of aerial drone footage.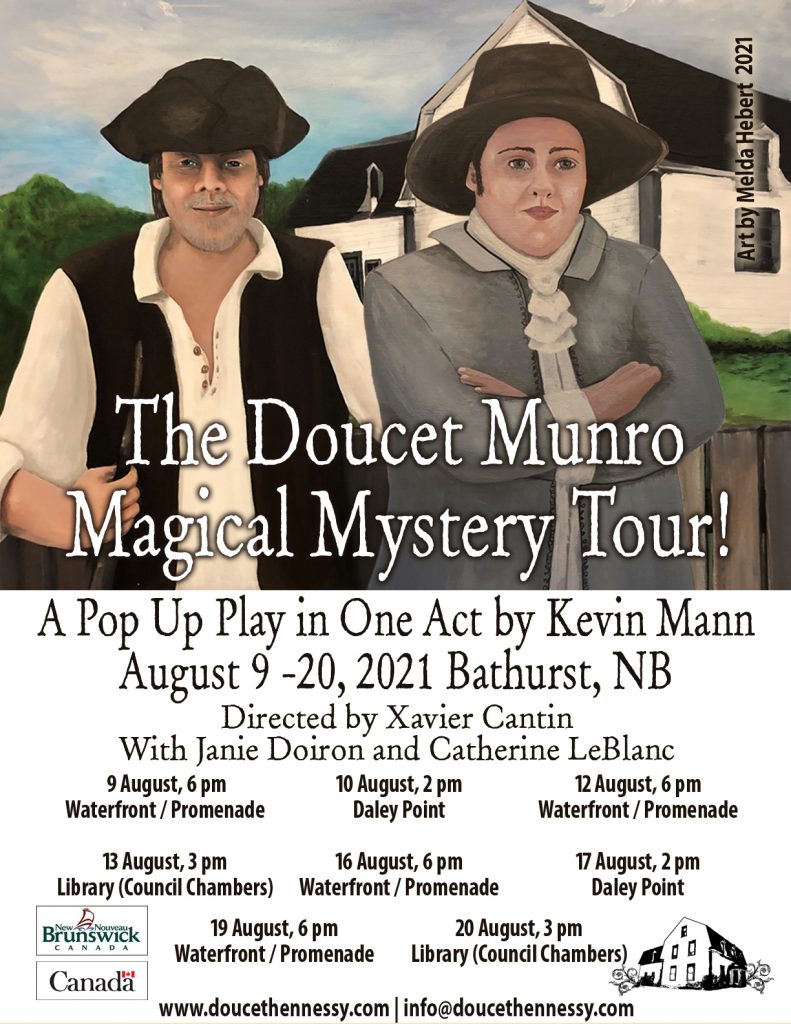 The Doucet Hennessy House presents The Doucet Munro Magical Mystery Tour, a historical play that takes us back to the lives of two of Bathurst, New Brunswick's most prominent colonial pioneers, Charles Doucet and Hugh Munro.
Times and locations are:
– 6 pm performances at the Waterfront / Promenade on August 9, 12, 16 and 19
– 2 pm on the afternoons of August 10 and 17 at Daley Point Nature Reserve
– Additional performances will be held at Bathurst Public Library (Council Chambers) at 3 pm on August 13 and 20
La Maison Doucet Hennessy présente Tour mystère magique de Doucet Munro, une pièce historique qui nous ramène dans la vie de deux des pionniers coloniaux les plus éminents de Bathurst au Nouveau-Brunswick, Charles Doucet et Hugh Munro.
Heure et lieu:
– 18 hrs à promenade le 9, 12, 16 & 19 août
– 14 hrs à Daley Point Nature Reserve le 10 & 17 août
– 15 hrs à Bibliothèque publique de Bathurst le 13 & 20 août
Special Sneak Peek In The Basement in 2020
We are open Monday to Friday during the tourist season from 10 to 4 pm. During the off season, we are open by appointment only and can be reached by phone or email. Contact us! / Nous sommes ouverts du lundi au vendredi pendant la saison touristique de 10h à 16h. En basse saison, nous sommes ouverts uniquement sur rendez-vous et joignables par téléphone ou courriel. Contactez-nous!
Please continue to support our fundraising efforts by making a donation, joining our Association and coming out to our events!
S'il vous plaît continuer à soutenir nos efforts de collecte de fonds en faisant un don, vous joindre à notre Association et de sortir de nos événements!
Click for full press release and poster! / Cliquez pour le communiqué de presse complet et l'affiche!
WELCOME / BIENVENUE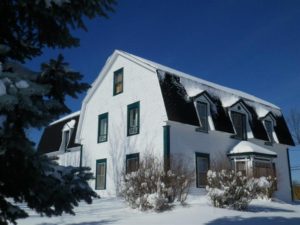 Welcome to DoucetHennessy.com, the website of the Association Maison Doucet Hennessy House Association. / Bienvenue au site internet Doucet-Hennessy.com, le site de l'Association Maison Doucet-Hennessy House

This website is designed to inform you about the history of the Doucet Hennessy House, to keep you up to date on the latest developments in our plan to protect, preserve and restore the Doucet Hennessy House and to motivate you to get involved in our Association. / Ce site a été conçu afin de vous informer au sujet de l'histoire de la Maison Doucet-Hennessy, de vous garder au courant des développements récents dans notre plan de protéger, préserver et restaurer la Maison Doucet-Hennessy House et tenter de vous impliquer dans notre  Association.
On this website you will find a description of the Association and how it was formed, YouTube videos, photo galleries, and contact information. / Vous trouverez sur ce site une description de l'Association et comment nous l'avons mise sur pieds, des vidéos sur YouTube, des galeries de photo et de l'information pour nous contacter.
We invite you to get involved and help us to build the Association Maison Doucet Hennessy House Association so that we can meet our goal of restoring the Doucet Hennessy House and make this jewel of Bathurst's architectural and cultural history available for all to see! / Nous vous invitons à vous impliquer et à nous aider à bâtir l'Association Maison Doucet-Hennessy House Association afin que nous puissions atteindre notre but de restaurer la Maison Doucet-Hennessy et faire en sorte que ce bijou d'histoire architectural et culturel de Bathurst soit mis à la disposition de ceux et celles qui veulent le voir.